Child Care Insurance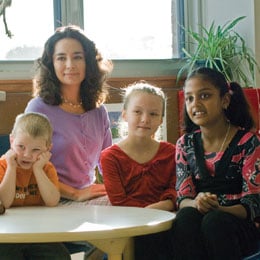 There's nothing more important than taking care of children ... with the possible exception of taking care of the people who take care of children. That's why West Bend offers special child care insurance coverage designed just for you. Our program provides you with the special coverage your in-home daycare or childcare center needs.
Your business is unique and deserves specialized attention so it's important to choose a company that understands your professional needs. If a child is injured in your care, or your center is damaged, you need an experienced child care insurance claim team dedicated to handling your loss. You'll have it with West Bend. West Bend provides protection for thousands of child care operations of all sizes.
West Bend and Smith D&L insurance  will provide you with an enhanced child care insurance policy that protects your interest, ownership, and operations on one policy.
Our premier program is designed and specialized for licensed, certified, or registered:
In-home daycare centers (family type)
Group and commercial childcare centers
24-hour childcare operations – Night-time operations
Drop-in child care centers
Head Start programs
Latchkey operations
Before-and-after-school programs
You worry about the children. Now let us worry about you.
To design an insurance program that's right for your child care business, be sure to contact Smith D&L Insurance  in Independence  who represents West Bend.
Information from West Bend Was used in this article.
At Smith D&L Insurance in Independence, Iowa, we've got a solution for you.
Click HERE to email us for a quote!
Or give us a call: 319.334.6066
Serving Independence, IA, Waterloo, IA , Cedar Rapids, IA & surrounding areas. ( Buchanan County, Black Hawk County, & Linn County)
Are you ready to find out if we can save you money?
Click to contact us for a free, no obligation quote.